6 April 2009 | Team Tamar
One-liner site links: an analysis
The Google SERPs have had what might be considered a minor change this week, they have introduced a new kind of site-link called the one-liner. Traditionally site-links were reserved for the number one result for 'brand searches' or authorities for certain keywords. Now the new one-liner site links can appear anywhere on the first page.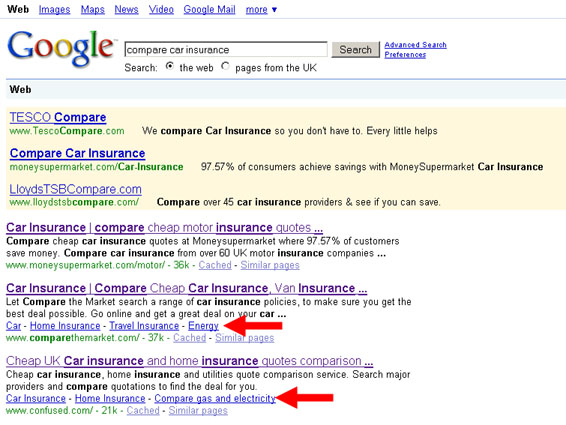 As you can see for the query compare car insurance the one-liner site links appear for the second and third result. Compare the market ranked in the first position for this query about 5 weeks ago and due to the very specific nature of the site they are considered to be authorities on the subject of comparing car insurance,  they were subsequently awarded sitelinks for the query. These sitelink seem to have reappeared for a number of terms in a broad spectrum of searches, even though the sites are not in the first position.
It is only logical to assume that more than one site could be considered an authority in certain industries. It has been somewhat unfair in the past few years that only the first site ranking gets the site-links. The traditional site-links were well known to have improved click throughs to the sites taht had them.
A full set of sitelinks can improve the clickable area of your result phenomenally, even the new one-liners or micro sitelinks can increase the surface area of your result by a whopping 20%. In the example below,  a non sitelink ad was 63 pixels high, and a result with sitelinks was exactly 80 pixels high. this is a phenomenal change, especially in high-volume niches where a simple extra pixel means more clicks.

There are a number of minor ripple effects to this new implementation, there is a chance that another result will drop below the fold, if a few sites have the sitelinks then, depending on a users resolution, there might be less results on the initial display page.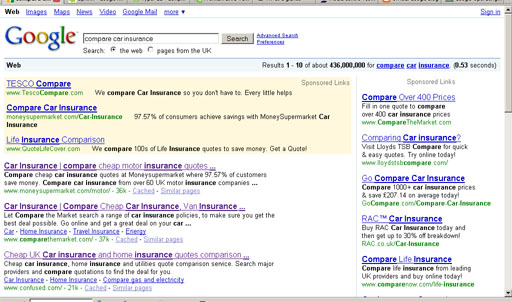 The SERPs only display 3 results at 1024×768 resolution.
Overall this change will have a positive effect and will deliver more click throughs if you are considered an authority in the niche. It will be very rare to see these kind of links for the generic high volume terms.