28 April 2009 | Team Tamar
New version of Office available in 2010
Microsoft Office 2010(also known by its codename "Office 14") is the next version of the Microsoft Office suite for Microsoft Windows, due out some time in 2010.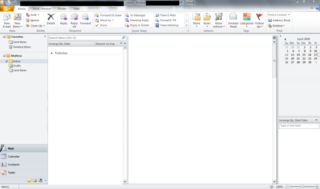 The timing for when it will be available, will differ for big businesses and individual consumers, and also for people who buy packaged software versus those who choose to download it.
Some industry observers had expected the new version of Office to be ready for a 2009 release, but Microsoft CEO Steve Ballmer extinguished that rumour at a meeting with analysts in February.
Office 2010 will implement the ISO compliant version of Office Open XML which was standardized as ISO 29500 in March 2008. The next versions of Microsoft Office Visio, OneNote, Microsoft Office Project, and Publisher will feature the ribbon interface element used in other Office 2007 applications.
Microsoft did not say whether PC users would have a chance to test a more polished beta version before the official release.