20 April 2009 | Team Tamar
Microsoft's Internet search must begin at 'home'
Microsoft's challenging commitment to grow the share of it's search business isn't just a global issue. It's also a challenge within its own walls at Redmond.

Despite investing 5 years and hundreds of millions of dollars on its search product, Live, Microsoft has struggled to get pc users to use its service, even those whom they employ at their offices. Microsoft Senior Vice President Yusuf Mehdi said the company's share of the search market – even internally – has been disappointing.
At a company meeting about a year ago, one Microsoft worker recalls hearing that four out of five of the company's search traffic was going to Google. Although he uses Live Search personally, the worker, who asked not to be named, said plenty of his co-workers still use Google for their itnernet search.
"We are still fighting that battle," the worker said. Among its full-time U.S. workers, Microsoft says that, for February, Live Search and Google had roughly equal share, at around 48 percent apiece, with little search traffic going to Yahoo or any of the other search players.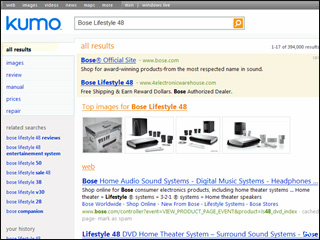 Microsoft is hoping that the next version of its product, code-named "Kumo", will prompt more users both from inside the company, and globally to give Microsoft another chance. Microsoft has been testing "Kumo" internally since last month, but they haven't said much about "Kumo", but several screenshots obtained by CNET News provide a glimpse.
The new revamped search page shown in those prototypes focuses on several key changes. For example using the left hand side of the browser window for navigation and refining a query as well as splitting the results into various categories. The results, meanwhile, are also split into different sub-categories.