23 April 2009 | Team Tamar
Is Google immune from the recession?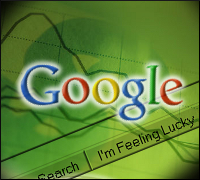 n every recession recorded in modern history there has always been one company or organisation that's seems to escape the negative growth cycle. In this current recession it seemed that Google would escape the brunt of the recession. In its 10 year existence Google has never reported a quarterly loss, until now that is.
Google reported a 3% drop in earnings from Quarter 4 2008 to Quarter1 2009. This is significant when one considers we're talking billions of dollars. Having said this, it needs to be stated that they still exceeded forecasted earnings for the quarter and still achieved one of the best ad revenue results in online marketing.
CEO Eric Schmidt remained confident in the search business and had the following to say; "Google had a good quarter given the depth of the recession — while revenues were down quarter over quarter, they grew 6 percent year over year, thanks to continued strong query growth," Schmidt said in a statement. "These results underline both the resilience of our business model and the ongoing potential of the Web as users and advertisers shift online."
So it seems that Google on the whole seem to have steered clear of the effects of the recession.