24 April 2009 | Team Tamar
Google street view. Whats your view?
This week saw the Information Commissioner's Office (ICO) reject a complaint from Privacy International  over the right to show images of people accidently caught on camera by Google Street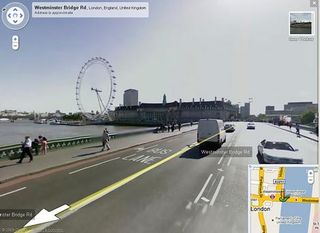 view, so the search giants latest toy is no longer under threat. This is great news for those who want to find their house on streetview and shout loudly 'I live there!' in the office, or for burglars or snoopers, but for the rest of us – I'm wondering if there is a slightly more serious undercurrent to all this.
Search engines, and other online entities, have always had a problem with trust. It comes from being a victim of one's own success – lots of fingers in many online pies means that they have exposure, and capture data, in all aspects of peoples lives. It is possible to avoid this if you are committed enough, by being very careful where you submit your details online, who you submit them to – or just staying away from the internet all together (extreme and pretty impossible).
Now, Google has got right in everyones face (literally) with the introduction of streetview. So its not just an online issue anymore – they have unleashed the possibility of being concerned for your own information to everyone. Its opt-out now, rather than opt-in, and this is what I think is the crucial difference.
For me, I'm not too fussed by the street view complaints. No one can see anything more outside my house than you can if you were to drive past. However – I am concerned that in pushing the boundries of technology, data capture, and media – Google may have pushed trust a little far. Search engines tread a fine line of trust anyway – Google actually dropped out of the most trusted companies list in the back end of 2008 according to the San Fransisco Chronicle. Before street views introduction, but it still shows the way things might be going.
I think it's a massive win for Google this week. David Evans, the ICO's senior data protection practice manager stated that it would not be in the public interest to "turn the digital clock back". This is a massive vote of confidence for Google and the work that they do, and should instill some trust back to the cynics.
What do you think? have the ICO made the right decision?