16 April 2009 | Team Tamar
Celebrities getting charitable with Twitter
The world of Twitter has been a-buzz in the past couple of days with talk of celebrities 'giving back' via Twitter. X-men star and all-round Australian nice-guy Hugh Jackman has pledged to give $100,000 to a non-profit charity that can pitch their cause to him using only 140 characters (the standard message format on Twitter) – an announcement which seems to have generated several thousands responses already, and gained Jackman a whopping 51,000 followers in less than a week.
Not to be out-done by the new-coming whipper snapper, Twitter old-timer Ashton Kutcher has himself
pledged
to buy 10,000 anti-malaria nets to co-incide with world Malaria Day, provided he reaches 1,000,000 Twitter followers before the news Channel CNN. The saga seems to have captured peoples imaginations, with the site 
http://www.tweetrace.com/
 tracking their progress by the minute. 
Since the original Kutcher pledge, other organisations have been jumping to help him out – Kutcher's latest video message on
YouTube
says that EA Games have said they will make his 1 millionth follower in to a personalised character in their Sims 3 game, as well as giving the "winner" a copy of every game they make in 2009.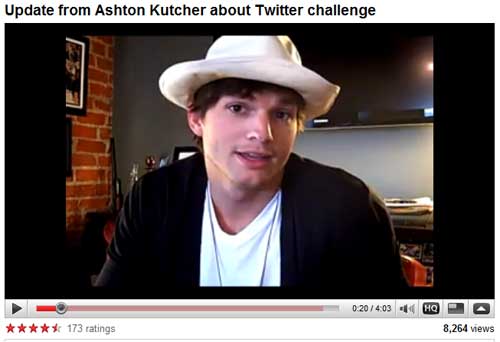 Whilst some people may be deriding the coverage this is getting, it's worth watching the clip I've linked to above and marvelling at how much of a Social Media evangelist Kutcher actually is – he may be a "movie star" but he certainly 'gets' Social Media a lot more than a lot of people in the industry today…