6 March 2009 | Team Tamar
TLC Pub Quiz 2009 – the good, the bad, and the hungover…
Well, the morning after the night before and I have a few things to report from the TLC Pub Quiz 2009 (in aid of Oak Lodge school for deaf and hearing impaired children):
1. I have a hangover. Its not a head-cracker, but its lasted out the morning and is still thriving.
2. We raised a staggering amount of £1,684.49
3. A great night was had by all, Henry made it through without fluffing his lines too much, and I think we can say the night was a resounding success.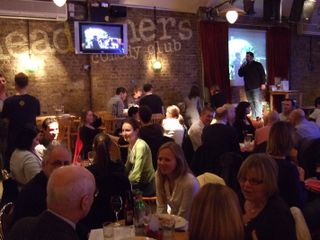 To the business end of things, the quiz was triumphantly won by Toxic Terrapins – congratulations – followed up by a joint second place, from Spider-Pig and Fast and Loose.
Our mini quiz was won by Give me Maude, and at this point I can breathe a deep sigh of relief that I didnt have to write any of the rude team names into my summary. You know who you are, you heinous lot.
I would like to thank a few people for their support on the night:
Prize donators!
Ticketmaster
Endsleigh Insurance
Sean at 180 Amsterdam
The Bedford Comedy Club, Balham
Cath Kidston
Cowshed
Mint Leaf
Tony and Guy
Debenhams
Vebeke Dahl
Headmasters
Zoe Clews
Simon Miller
Nick moody
Ronke Phillips from ITN
Tanya for various lovely items
Lesley for some splendid Champagne
Henry for being a superb host. The Tamar team for persuading people from their cash and organising a cracking night. The George IV for having us, and for clearing up our mess afterwards.
More photos of the night are available on TLC's Facebook page.
Just a quick plug for upcoming events…
The TLC Football Tournement, happening on the 2nd April, at Turnham Green's Rocks Lane sports facility – 6.00pm. Teams of 5 required, but two rolling subs allowed. Contact football@tamarlifelinecharity.org
TLC Rocks – 3rd April at 222 Kensal Road, Ladbroke Grove. Bands start at 8pm, please email tlcrocks@tamar.com.
Keep up to date with what is happening with TLC projects at www.tamarlifelinecharity.org.uk
Thanks to all who came, well done to all teams, and we look forward to seeing you at one of the upcoming events, or at next years pub quiz!