16 March 2009 | Team Tamar
Coca Cola doing the right thing on Facebook
There is a great story on AdAge today detailing the rise in popularity of the Coca Cola Facebook fan page, and how it came to be, despite not being ('scuse the ironic pun) quite 'The Real Thing'…
In a nutshell (for those of you that don't have time to read the full article), the story is interesting because the page itself is the 2nd most popular fan page on Facebook, despite the fact that it isn't directly run by Coca Cola themselves. Set up by aspiring actor Dusty Sorg to show his love of the iconic soft drink, the page has over 3 million fans, and appears to have grown to those proportions entirely naturally (or should I say virally?)
When fan pages first came about, this wouldn't have been such an unusual thing, but last year Facebook had a policy change which required any page relating to a brand to be either run by, or at least authorised by the brand in question. When Facebook contacted the people at Coke with the offer to either hand the page over to them or take it down, the people at Coke (much to their credit) asked if they could take a slightly different approach, leaving the page admins to run the page but offering the services of a few of their senior 'interactive professionals'.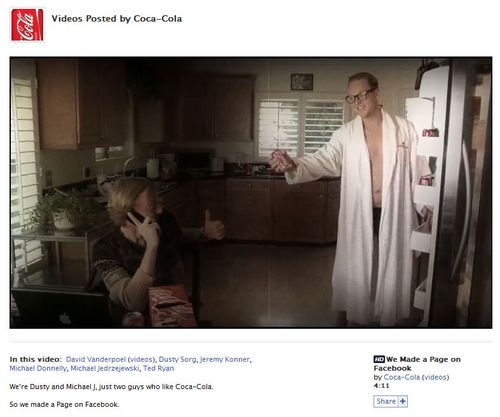 Over the holidays, Mr Sorg and his friend and co-admin Mr. Jedrzejewski were flown to Atlanta for meetings with Coca Cola, a tour of their brand museum and some other nice perks – all the time discussing ideas for the future of the page and the brands interaction with Facebook.
One of the best additions to the page since that visit has been a video made by Dusty and his friends chronicling this very story – you can
watch it
on the fan page.
Whilst I'm a bit advocate of brands having official presences on Facebook and other relevant networks, this story really impresses me, as it shows Coca Cola take a really positive approach to interacting with their fans. If only more brands did the same!