3 March 2009 | Team Tamar
Adopt a blog #30 – doshdosh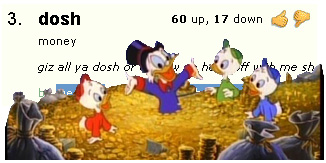 If dosh is money then doshdosh is piles of it, Scrooge McDuck piles of hard
earned cash.
I have only been reading this blog for two months, in that time Maki, the bloggers alias, has only posted two new entries. Don't be fooled by the low post rate and innocent anime portraits accompanying each post, this blog is good! The stories are eloquent, insightful and well put together. I started reading retroactively and realised that, like doshdosh, a good blog is all about quality, if one or two posts a month can cover so much ground and establish a fan-base and readership like doshdosh then a lot of the other 10 posts a day blogs are doing it wrong.
After delving into the archives and really getting stuck into the older posts, I had to force myself to come up for air like a meerkat gorging itself on buffalo carcass. The content is excellent, well written articles that tell me interesting things about marketing and social media, things that I would have read nowhere else, Maki has a knack for online marketing and seems to enjoy sharing his insights and ideas.



Overall, like the English Rugby side in this years six-nations, the site is a clean, simple and well-oiled machine, but unlike the England side, this blog really delivers – every time.