19 February 2009 | Team Tamar
Elegant visualisations of LastFM data
This might a story for the technology blog, it could also fit on the experience design blog, if I was clever enough I would put it on all three.
I got to plaing with the new seadragon app on the i-phone and it is awesome. The best example of a seadragon interface that I have seen yet, reconstructing the worldwide music scene according to the profiles and tastes of users of the music site lastFM.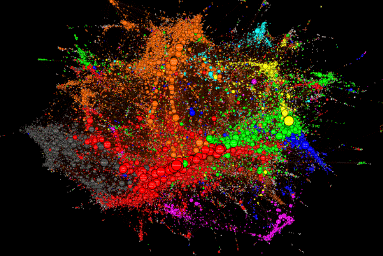 The interface sorts artists by genres and colorcodes them accordingly, zooming is fluid and fast and you get all the way in to focus on some of the most obscure bands. It really is one of the best implementations fo the new technology that I have seen so far.
All of this lovely viz is brought to you by a Phd student in Hungary have a look at his blog. there is a lot of experimentation with this interface – have a look at your own music tastes – pop in your last FM username and see the trends for yourself.