17 February 2009 | Team Tamar
Adopt a Blog #24 – Dave Gorman is at war with the obvious


Who is Dave Gorman? Some of you  may wonder, well he's a broadcaster, comedian and all round creative Genius.
I first became aware of him about 9 years ago when he did a series for tv called "Are You Dave Gorman" where he travelled around the globe trying to find people who shared his name. An insane notion you may think but resulted, if memory serves, in somebody if not several people changing their names, just so he could reach his DG (Dave Gorman) target of….54. This was all spawned from a bet he had with his mate Danny and has since been broken, even today he still gets emails from other Dave Gorman's…….comedy gold!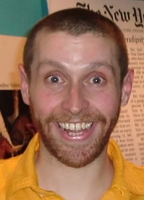 I have been following DG's blog avidly now for a good few months, an since the surge in micro blogging, I have also started following him on the big T. God! I feel like his cyber stalker, I know where he has been, what he's been eating, what he has been taking photos of (I also RSS his photos on Flickr), which is a great inspiration, as I also make pictures.
He has without doubt embraced a lot of the new technology of the day, and with his unique view on the world manages to make the mundane interesting and funny. Check out his web cam.
Some of his recent posts include observations on cycling and a pie & mash shop that now sells gravy! Sometimes he'll just post a picture for your viewing pleasure……nice!
Following his Tweets as well has allowed me to fill in the gaps between blogs. While filming trails for Genius, (hold on to your hats) he also got his bike fixed. The decision to make a banana and jam sandwich was maybe a tweet too far, sounds nasty but did make me consider trying one……….ummmm we shall see.
I have enjoyed following Mr.G so far and look forward to his next post. Hope the transition of Genius from radio to TV is a success Dave…