3 February 2009 | Team Tamar
Adopt-a-blog #15 – Scott Guthrie
S

cott Guthrie (aka Scott Gu on his ASP.Net blogs) is a vice president in the Microsoft Developer Division at Redmond. He runs the development teams that build ASP.NET, Common Language Runtime (CLR), Silverlight, Windows Forms, Internet Information Services 7.0, Commerce Server, .NET Compact Framework, Visual Web Developer and Visual Studio Tools for WPF.
Scott's blog are for all the ASP.net developers out there(this site is not for celebrities like Jordan), that just want to know more about .Net and other cool Microsoft technologies. You will not find help on Java on this site!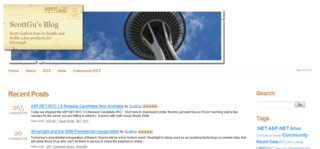 Scott's blog is well organized, which makes it easy to navigate. Post headings has a large font size and the link colour are stands out abovneral text colour, and it's easy to find. The top bar of the site contains links to information about the author, RSS feeds, Atom, and a login link for members of the ASP.net Web blogs website. There is also a right hand sided navigation bar that contains all of the necessary topics that scott blogs on. You will also find the Search Bar, links to archives, links to favourite sites, a categories menu, and some advertising on ASP.net books.
The blog is definitely cutting edge when it comes to the world of "ASP.net technology" blogging, and provides fresh content on a regular basis. The content is excellent(for beginner to advanced programmer), and the site design is laid out in an easy to navigate and well organized appearance.