13 February 2009 | Team Tamar
A tweet from the Queen?
Not likely, and perhaps a royal blog is also out of the question, but for those wishing for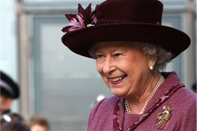 a touch of majesty, or a sneak peek into the private lives of the British Royal Family, there is www.royal.gov.uk – the freshly re-launched royal website was unveiled by none other than Sir Tim Berners-Lee, the creator of the world wide web, earlier this week.
The website was first launched 1997, making it a fairly old site. After major renovations, with more video and opportunities for interaction, including a Google map which allows you to track royal visits to your area, the site is pretty interesting. Watch the Queen give her 21st birthday speech from Cape Town on her Royal tour of South Africa years back or check out the Queen Mum's wedding cake – circa 1923 -on YouTube (my, we have come a long way) or watch the changing of the guards.
No, you cannot email the Queen and there is no evidence that Her Majesty wishes to blog or join a social network, but you can take a virtual tour of parts of the palace, read up on the history of the royal family and follow their antics on the news and diary page.
Nothing groundbreaking here, but a very well designed website. The virtual tours are particularly well done and the rooms are pretty breathtaking.