5 February 2009 | Team Tamar
A £7 laptop?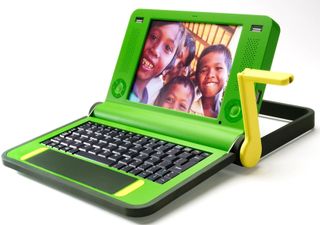 As part of the National Mission on Education through Information and Communication Technology in India, a new scheme to boost learning in rural areas through the internet has been in the pipeline for about three years now.
A new government-developed laptop is the latest in ultra-cheap engineering to emerge from the country. It is also the most ambitious attempt yet to bring the internet to the developing world and to bridge the digital divide between rich and poor.
India has already given the world the £1,450 Tata Nano car and a no-frills mobile telephone that costs less than 800 rupees…now we are poised on the verge of being given the £7 laptop. Or are we?                                                                                        
Technology experts have suggested that India's plans for a cheap laptop are unrealistic. The semi failure of the American 'One Laptop per Child' project, which set out to produce a computer (pictured above) for $100, or £68, has been quoted in dialogue about the chances of a laptop which costs less than most paperback books in the UK .
The high-profile venture led by scientist Nicholas Negroponte ran into problems after several companies, including the chip manufacturer Intel, refused to cooperate. As a result, the cost of Negroponte's laptop will be closer to $200.
The website arstechnica.com said: "Can India do it? The inner-philanthropist hopes so but the realist who buys technology says 'No way'. " The technology website said that the price of computer components is just too high to make a 500-rupee laptop.
Analysts at the financial management company Merrill Lynch estimated that the Negroponte laptop screen alone cost about £20. "India's £7 price hopes appear to be nothing more than pure fantasy," it concluded.