29 January 2009 | Team Tamar
Whats the BUZZ??
For those that want to find out what people are saying about their website(s) and gain a little more insight into their website's reputation, etc,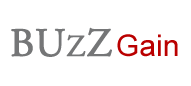 I have the answer for you: BUZZGAIN. This social media program will let you in on all the "buzz" around your website in the social media world by keeping track it for you. The best thing about using this is that it really only takes a few minutes to set up.
For a small price of only $99, BUZZGAIN offers a sort of all-in-one tool for all entrepenuers, small business owners and it's a cheap alternative to an expensive PR company, that would proberbly use this. You can find out almost anything about any website, including your competion or research into your next project. BUZZGAIN offers analytics as well by using Fusioncharts to display the analytical data in an easy to read and interpret form. They have Twitter, Del.icio.us and flickr all intergrated into their online media pack as well. I have to say that it is not all roses with this program, as with all new projects, it has a few glitches that I'm sure they will sort out in due time. It is however, still worth looking into!