9 January 2009 | Team Tamar
Sacrifice a friend for a burger? Not on my watch!
If your immediate answer to the title of this post was a resounding "Yes!" then you're going to love the new application that Burger King have made to promote their Whopper Burger… If you install the app and remove ten of your Facebook friends, BurgerKing will reward you with a free whopper, apparently.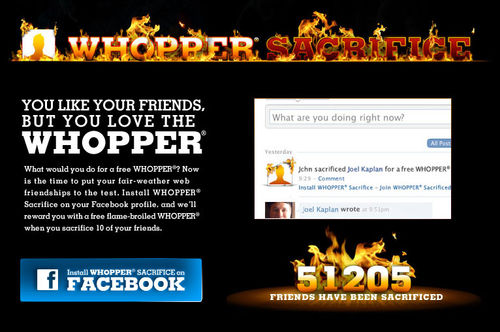 If on the other hand you're like me and feel a bit more precious about your contacts, then you might be a little less keen. So, I had a quick go on the app so that you don't have to.
It's pretty much as you would expect – the application guides you to a list of your friends, you select which ones you want to "sacrifice" and it shows you how to remove them. My "walk through" came across a slight problem here, as it appears the app doesn't work properly in
Chrome
, so I had to switch back to IE to find out what happens next. But no joy – it doesn't work in IE either. I couldn't click the "x" button it told me to in order to remove the friend. I tried it with a couple of friends but to no avail. Not a massive disappointment – as most people at Tamar will know, I'm quite protective of my friend list (mainly due to it being the best substitute for my rubbish memory!) – but it would still have been nice to see what happened when I hit the "sacrifice" button.
There was another big problem with the app too, and you can see it in the screenshot below. I don't know about you, but I'd be much happier about subtley removing a friend (or a non-friend, as might be more likely) if I knew they weren't going to be told about my actions. But Burger King can't seem to decide whether or not they will be notified – the screenshot they use says no, the caption says yes…

Overall I was not particularly impressed by the app, for obvious reasons. But perhaps you had more success with it than me, and disagree? Let me know in the comments if so!