7 January 2009 | Tanya Goodin
Monopoly? No thank you!
Nobody likes monopolies, especially when they are not benefiting from them, and this is as true for search as any other sector. Google is usually the search engine singled out with accusations of unfair domination of the market, but it is Baidu's turn now.
The massive Chinese search engine is being by Qmyy.com for losses incurred after it was dropped from Baidu to stop the site being dropped from the rankings. Qmyy.com have also lodged an anti-trust complaint with Chinese authorities. Cases like this show the importance of search to the bottom line of companies that trade online.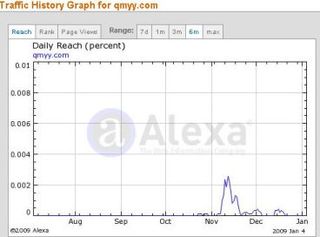 There is not information on why Qmyy.com has been dropped from the rankings but looking at the Alexa traffic graph you can see a big old spike in traffic around mid-November after which their traffic h legal action. as trailed off somewhat – to the tune of 1.106 million yuan or about £109,000.
Baidu is now the third largest search engine in the world and has recently opened and R&D centre in Shanghai, simultaneously announcing their Aladdin plan tasked to "find hidden websites." Baidu have reportedly put 1,000 R&D staff on the project. Their plans to extend functionality can only be aimed at increasing market share.