Tweet
At Tamar, we observe the odd wacky internet phenomenon every now and then, we see people do off the wall things with Facebook and other social media circles, and sometimes they work, and sometimes they don't.
One thing that has been causing amusement in the office this week is a recently developed viral by comparison engine Comparethemarket.com. The campaign is centered around a simple play on words between 'Market' and 'Meerkat', and features not only the online aspect of a complete microsite dedicated to the comparison of Meerkats, but also a through the line integrated marketing campaign.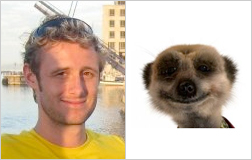 Aleksandr the Meerkat has not only been causing humour in the Tamar office because of his anecdotes and broken English skewed with a heavy Moscovian accent, but also because it has been said that he looks ever-so-slightly like one of our search managers. Not the opinions of this writer, just passing on general opinion.
The campaign is brilliant for several reasons. One, it is amusing and engaging. Two, it causes debate – of which Comparethemarket are benefiting in the blogosphere and various forms. Three, it shows they are doing something very different in a market and at a time when doing something different might be the the difference itself between winning or losing, and indeed sink or swim.
Tweet
Google+