26 January 2009 | Team Tamar
Adopt-a-blog #12 Avinash Kaushik
Being relatively new to the web analytics world myself, it seems somewhat of an injustice for me to pass comment on arguably the world's foremost web analyst practitioner's blogs. The writer of Occams Razor,  Avinash Kaushik has for years now authored books, held conferences and offered advice about the intriguing subject of web analytics.
The content of the blog delves deeply into the inner workings of web analytics. From measuring an online campaign success to the tagging of Facebook  pages, every topic is covered. However in these tough economic times he tends to focus largely on sales and conversions which of course is the lifeblood of an online business.  As stats people we are trained never to just accept an answer on "face value".
We are encouraged to always dig deeper (no matter how right or wrong an answer may seem) and find ways and means to make processes and calculations more efficient. We are trained to statistically prepare for any and every eventuality and then act with due course.
This website assists us with dealing with all eventualities and challenges web analysts to think out of the proverbial box. In a recent post Avinash Kaushik highlights the point that we often obsess with sales conversions being the once off response to a lead on Google, Facebook  etc. While this is great we have no idea of what the "depth" of the sales relationship could be.
We tend to focus so much on the "quickie" that we lose sight of what could be a long lasting meaningful relationship. The key to this is measuring the user behavior after the first sale.  Here I like the simplicity which is used to explain a rather complex topic when he says; "you are not just measuring the "one night stand quickie" what you are measuring is something more of value: Was there a second date? Perhaps a proposal in five months? Maybe a marriage in nine months (because that's when the baby showed up)" He therefore encourages us to use a metric commonly found, but scarcely used in analytics packages called "visitor recency". By using this metric we are able to firstly and importantly distinguish between visits and visitors, track site visits(or visitor loyalty) and the frequency thereof, check the frequency and nature of sales and much more, all the while we are honing in on one particular user. This could of course be further projected to regions, age groups, gender etc.
Armed with this historical data we are able to further prove the effectiveness of natural vs paid search and build effective add campaigns.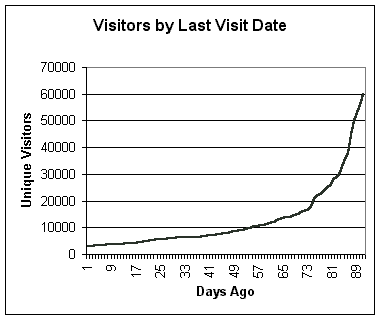 I've highlighted just one of the not so popular metrics in analytics that we are encouraged to explore in Occams Razor
and the more I learn, I realise how little I really know about this
topic. So it's great to have a resource like this to turn to.