12 January 2009 | Tanya Goodin
a toothbrush, an iPhone and a Blackberry
I spent a surprise weekend in New York last weekend. Because it was a surprise I hadn't done my usual OCD thing of researching every possible bar, shop and eating venue in advance. Nor had I packed a single guide book. In fact I've never travelled so light, one small overnight bag, my Blackberry and my iPhone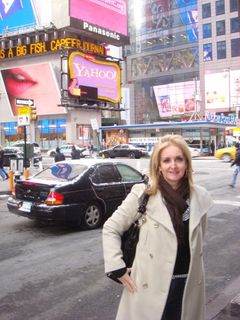 I haven't been to NY for about 10 years and my last visit was punctuated by me referring every five minutes to the
Lonely Planet
,
Fodors
,
Time Out
NY and wrestling in the wind on street corners with an assortment of maps.
Compare the trip this time when, despite pondering several times with my
travelling companion
 whether we ought to buy a guidebook or map, we managed superbly without either.
The
Google Maps
app on my Blackberry saw us from A to B very efficiently and quickly helped us orientate ourselves in the city. One of the first things I did was save our 
hotel
as a location so we could always find our way back. It also helped in disputes with cab drivers when we were able to show the exact location of each destination. My Blackberry kept me in touch via email with friends in the UK who had only just visited the Big Apple and who emailed us at regular intervals throughout the two days with suggestions on where to eat. And finally my iPhone as usual couldn't be beaten on web browsing and gave us access to
Conde Nast Traveller
,
Time Out
and endless
Google
searches tracking down places of interest. It was a revelation – I won't be buying another guide book again (another death knell for the offline publishing industry).
The trip was also thought-provoking for the effects of the credit crunch on the US economy and consumer spending habits. Department and clothes stores like
Macy's
,
Bloomingdales
and
Henri Bendel
were deserted and gloomy but technology and electrical stores were absolutely rammed. We visited the amazing glass cube
Apple store on 5th Avenue
and it was packed. And they weren't just window shoppers, the tills were heaving. Ditto any shop which sold digital cameras, camcorders or PCs. In each we had to queue for upwards of 30 minutes just to pay.
It made me think, in tricky times people stick to buying the essentials so it's not surprising that clothing stores are suffering – you can always make your jeans last a bit longer if you have to. So technology has clearly become a 'essential' rather than a 'nice to have'. NY consumers are still spending heavily to get faster processing power, more memory and improved functionality.
Not
just making do with what they already have, which you might expect in the current climate. Judging from my experience getting round the city it's obvious to me that technology is a central part of life, not an add-on. If I hadn't have had either my iPhone or Blackberry this weekend I would have had a much poorer trip. And listening to the ringing cash tills in technology stores, I realised I was listening to a ringing vote of confidence in the sector in which we work. Good news for the upcoming year.