15 December 2008 | Team Tamar
Yahoo's redesign…… yes or no???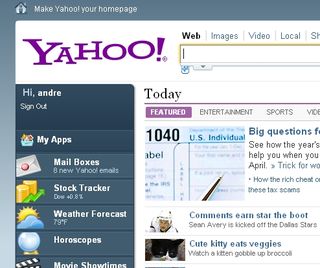 Today for the first time I in logged into my much neglected Yahoo! mailbox and to my surprise I saw that they have redesigned their equivalent of "iGoogle". What struck me as odd was the fact that the URL had an m as the start of yahoo.com, http://m.www.yahoo.com/ , which is more often than not for mobile use. The design of Yahoo! was really nice considering you could get up to date with most news which consisted of sports, entertainment, world news and many more.
Now instead of looking like a dominant search engine, it looks a little "cheap". Especially with the state of Yahoo's financial issues, I don't think that this would be the best idea. The positive aspect of the "new Yahoo" is, the site is now almost entirely customisable, and Yahoo! has provided an
API for developers to create applications that can be integrated with
the site.
This is but one of many redesigns that we've seen this year.
Facebook had its big redesign, which started as an option but later turned into a "default" option. Many users were torn between the two designs and I personally prefer the old design, but it has strengthened a stable social networking site that has a big and bright future.
Myspace also gave us a "new look" but they didn't give the option of asking their users to choose which design they liked. They changed to their 2.0 profile look over night. 
Let us know if there are any other major redesigns that we might have missed.