Tweet
On Tuesday Steve
Jobs, chief executive of Apple, said that Apple will no longer be delivering its
presentation at Macworld after 2009. At Macworld's annual computer trade show that happens
in January, Apple is usually the highlight of the show. They also said
that in 2010 they will no longer participate in the conference, which has
become the prime convention for Macintosh developers.
More people are being reached in more ways than ever before.
The popularity of Apple's Retails Stores is increasing rapidly. Over 3.5
million people visit the Apple Retails Store every week, and the Apple website allows Apple to reach more than
100 000 000 people around the world in new ways.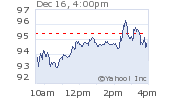 Macworld's computer trade show will
happen on Tuesday the 6th
of January 2009.
Tweet
Google+