26 November 2008 | Team Tamar
The best websites in the world…ever.Vol.31
A confession before I begin: I own Now That's What I Call Music, the very first compilation of the ever popular NTWICM phenomenon that began in the 80's and is still going strong. Yes kids, believe it or not. Now up to number 70 and featuring such classics as, Cry For You by September and who could forget the classic, Wearing My Rolex by Wiley!! Gone are the days of Malcolm McLaren's Double Dutch and the rock ballard classic that was Bonnie Tyler's Total Eclipse of the Heart. Looking back at the original track listing for the first 1983 album, Kajagoogoo had two, yes two tracks on the double album vinyl gatefold edition, oh yes.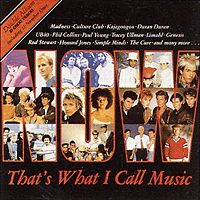 As you may have guessed by now I'm into my music, I like to think I have a wide and varied taste and a site that gives me a regular dose of new and upcoming tunes is KCRW.com. A community service of Santa Monica College based in Southern California, it churns out playlists that are hand picked by the Dj's themselves, none of the corporate chart dictated music here. You can access them with itunes through a podcast, live streaming or direct from the site.
I'm thinking of buying a house at the moment and hoping to pick up some sort of bargain (thumbs are being firmly held) in these trying times. Once I've persuaded a finance house to lend me loads of money I will be happy, in the meantime I visit Nestoria, a property site that has web 2.0 attitude. With a Google Map mashup and links showing you where the local pubs and schools are, it provides a wealth of information for the user when looking for that perfect pad. You can view average house prices in an area and find out what percentage of an area is in good health. A quick poll shows Chiswick is at 76.2% and Rotheram is at 62%. It even shows you photos of an area, that are posted up by a photo sharing website, great stuff.
Cuteoverload is a site I go to if I need a laugh. It instantly puts a smile on my face with its often bizarre collection of animal photos. There is a worryingly large submission of cats photos at times, but proves we are a nation, if not a world of animal lovers. The trampolining dog is a wonder to behold……..bounce bounce.