20 November 2008 | Team Tamar
The best websites in the world…ever.Vol. 29
One of my favourite new sites at the moment is The Big Picture. Each entry on this site tells a story through high resolution images from news services. This a welcome change from the small news images we are usually spoon-fed on the web. Here is what Alan Taylor, the man behind the The Big Picture, wrote about the project on his personal website:
The Big Picture is intended to highlight high-quality, amazing imagery – with a focus on current events, lesser-known stories and, well, just about anything that comes across the wire that looks really interesting. Each entry will be made up of anywhere from 6-18 photographs, tied together through some common narrative.
The sizes of the photographs are deliberately large – taking advantage of the majority of web users who have screens capable of displaying 1024×768 or larger. The long-held tradition of keeping images online tiny and lightweight is commendable still – when designing a general purpose site. But one dedicated to quality imagery should take full advantage of the medium, and I hope I've struck a good balance with The Big Picture.
Some of my favourite entries so far on The Big Picture have been Scenes from Antartica, Scenes from India, and Water, Water Everywhere.
The second site on my list is BLDGBLOG: architectural conjecture, urban speculation and landscape futures. This is probably the blog I have been following the longest. It is an architecture blog written by Geoff Manaugh. In the author's words, the content sporadically covers:
about artificial reefs and tectonic warfare and urban soundscapes and climate change and sovereign trapdoors and dungeon instancing and the future of surveillance and offshore utopias.
I'm sure this doesn't fall under everyone's tastes, but it is a site I always enjoy reading.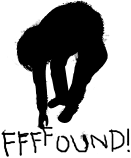 The last site I want to mention is FFFFOUND. This is a image bookmarking service with a really intuitive and minimalistic interface. The idea behind the site is pretty simple. Site participants select images to bookmark and the images show up on the site. Users can also bookmark images that other users have bookmarked. This creates connections between images and users, allowing FFFFOUND!'s software to build recommendation lists for each user.
Go have a look at my favourite sites and let me know what you think.