3 November 2008 | Team Tamar
The best websites in the world…ever. Vol.22
First up is an art-related one: Deviantart.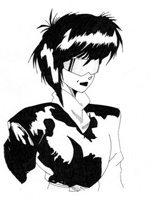 I've been a member of Deviantart since 2006, and find it an excellent place to catch up on what my art friends are doing and to view their latest pieces of work. It also encourages me to find time to pursue my own
artistic interests, particularly as my gallery only contains 36 pieces of artwork so far.
Once you have created your account, you can then populate your homepage with some basic information about you, your likes/dislikes and interests etc. When uploading your artwork combinations of pre-defined tags are available to describe your artwork in combination with your own descriptive keywords.
You can also 'watch' a fellow Deviant, and receive updates whenever they upload new artwork or perform some other activity on the site.
Deviantart also allows you to sell prints of your artwork and to freely download custom illustrator and photoshop brushes that have been created by people in the deviantart community.
My second site is a web-related one: alistapart. This web site is essential reading for anyone who works
with the web. It provides a great central resource of articles written by fellow web professionals, with topics that cover virtually every aspect of the web. I recently took part in the annual alistapart survey for web professionals. This survey aims to capture the real picture of what is happening in the web industry, by gathering information from the people that matter, the web professional.
My third and final website is the BBC, especially the BBC news site where I can quickly


get an overview of what is happening in the world; especially regarding the web, in the technology news section. I use the BBC site more now than in the past, especially since it was given a fantastic new make-over. And there's (how could I forget) the iplayer, so I can also watch any missed programmes too.