27 November 2008 | Team Tamar
Search images by colour
What consists of yellow, green, mauve and a deep red?
To perfectly honest, I do not know, but I have found an interesting image search that might!  Idée Labs have released their Multicolr (It seems that everybody in the world is losing vowels, should we notify the authorities?) Search.
Having "extracted" the colours from over 10 million of Flickr's most "interesting" Creative Commons images, their tool displays images based upon  colours (up to 10) selected by the user.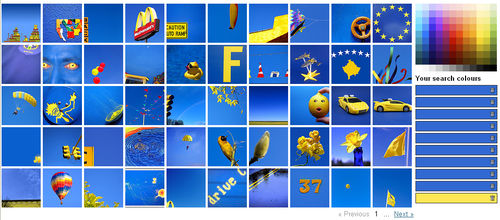 Although there is no real commercial value to this, other than finding pictures that will match your curtains and lounge suite, it is hugely fun to see what images are displayed with varying colour combinations.
On a side note, by trying to select more than 10 colours, you are presented with one of the more interesting error messages I have come across.