20 November 2008 | Team Tamar
GMail Gets a Facelift… From You!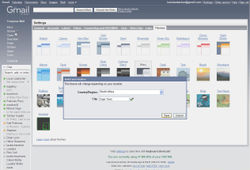 News has reached us from the team in Cape Town that Google have today rolled out a new "themes" option for GMail users – though it doesn't seem to have reached the depths of London quite yet…!
It seems that Google have caught the theming bug something chronic – users of iGoogle will already be used to having the option to 'theme' their homepage, but it's a new treat for Google's e-mail account holders. As well as seemingly being a lot faster than the old version, the functionality also includes a few nice bonuses - the ability to change your theme automatically depending on where you are accessing the page from is a particular favourite of ours.

MySpace also recently launched their new "profiles 2.0" layout, with the option to choose from a number of set themes – presumably in response to the growing number of sites out there offering custom MySpace themes that MySpace themselves had no involvement in. It looks like the entire internet is becoming increasingly focussed on personalisation – with sites increasingly using technologies like Ajax and Sortable User Interfaces, surely it won't be long before you're able to go in to your Google results page and drag results around, or change the way your Tesco shopping page looks. People like the BBC and Facebook are already utilising these sort of draggable-elements in their pages, with generally positive reviews.