21 October 2008 | Team Tamar
The best websites in the world…ever. Vol.11
There are so many great websites to browse on a regular basis. Getting lost for hours, 'surfing the net' for knowledge, information, trends and to make purchases online are just some of the reasons why we use the the web.
For me personally content is key, depending on what you are searching for. The look and feel of the site is really important, as well as easy navigation, use of colour, font, concise information and not to mention easily accessible pages, with no error pages!
I have a lot of sites that I browse on a regular basis, however on a leisurely note, one of my passions is fashion! I can browse for hours and hours on websites that give an insight into the 'fashion' must haves, who wears what, what looks great and the latest trends.


www.vogue.co.uk is an excellent website to keep up with the most recent fashion news, shows and latest trends off the catwalk.


This brings me to www.handbag.com, which is a great site for women. Covering the latest in fashion (once again), beauty, celebrity gossip, horoscopes and entertainment news. It has great content for women, is easy to navigate and has great advertising throughout the site.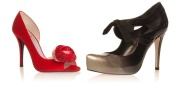 Last but not least, one of the greatest must haves for any female is shoes! www.kurtgeiger.com is a great site to browse. This site is the answer to owning some fantastic shoes, having a fabulous collection, offering good sales, this is not only essential, but one of the most important parts of a woman's wardrobe. Especially mine!