3 October 2008 | Team Tamar
NeXplore – searching for the future, or searching for a headache?
Coming to the end of my day yesterday, feeling a bit fuzzy around the brain, I was having a read of a few of the blogs I subscribe to – when I stumbled upon the new beta of the NeXplore search engine. I don't know about you, but whilst I love it, I get a bit bored of looking at the same old Google home search page (its why my iGoogle theme gets changed way too often). But an advancement to a search engine is always good news, its a long shot that its gonna be up there with the big boys, but I'm always up for giving something a go, and I thought I'd take a look.(And so should you!)
On first impression, the Homepage looks very clean, nice, no clutter. Much like what has made Google such a success – who have barely made any changes to their clean-living format in ten long years. NeXplore's looks similar, nice and uncluttered. They must have learned something from search Lothario Google…
Don't be fooled by this.
Once you have searched, NeXplore turns into the search equivalent of Las Vegas on Big Fight Night. Its all lights and action, which I'm not complaining about – it certainly put a bit of excitement into my afternoon. Its all a bit Web 2.0 – aimed at the Social Networking generation, with the opportunity to bookmark pages literally all over the place.
I thought I'd try a couple of searches – on NeXplore, and on Google, and see how the results compare. I'll have a look at the results first, and then we'll focus on the manic way in which NeXplore chooses to display things.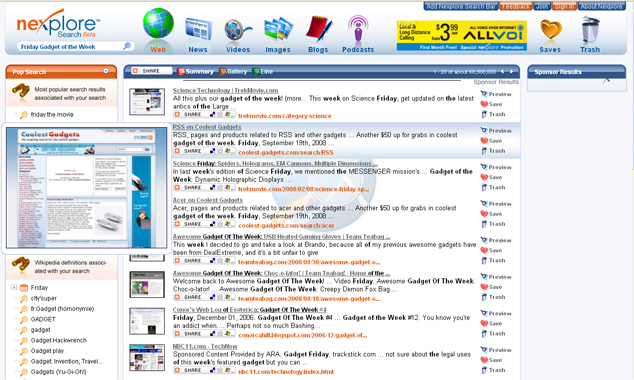 Seeing as it's Friday, and I thought I'd see how NeXplore could help us out with finding the Friday Gadget of the Week. By the looks of things, there was quite a bit of crossover between what it churns up, and what Google delivered. Google's results tend to deliver a bit more of a direct, straight laced approach, with NeXplore throwing in the odd, well, oddball.
I tried a couple of other searches – for some new trainers that I've got my eye on… with the results proving to be similar – NeXplore being a bit more off the wall, and Google being a bit more functional. Lastly, a bit more of a conventional search – looking for Pet Insurance. This returns a bit of a different set – by the looks of things there is no 'obvious' way to filter results for the UK only with NeXplore. (There probably is really, but like a lot of searchers out there – I can get bored very quickly and revert to type. So revert to Google.) I think I'm going to have to keep using it to get a real feel for results, and the quality of what is delivered.
Looking at the presentation of information, its all a bit busy. If you can get over the flashiness, and the aversion which I had to what feels a bit like old fashioned pop-up ads; the website 'previews' it generates, which can be quite useful, theres actually a lot of good information there. I like the 'related searches' on the left hand side, and the Wiki results that are delivered. I also love the video search results, where all videos start playing at the same time. Its like the utopia of being able to watch several TV channels all at the same time!
The idea of having search divvied up down to the level of web, news, video, images, blogs and podcasts is not a new one, but its logical for such a madcap search engine, and all fairly will delivered.
My poor brian is still recovering from the way that all the information is displayed. I think if you struggle with strobe lights, you might have problems with the all out rave that is NeXplore. There are two other display versions, gallery and list, which I havnt tried yet, because my brain is rocking backwards and forwards to itself in the corner.
Despite all that excitement leaving me with a hangover and a headache, I'm going to keep using NeXplore, and I'll keep you posted as to how I get on. I think it takes some searches and quite a bit of use before a verdict can be made, and I'm willing to be that guinea pig. Just snap me out of it if I go into a trance or something though, wont you…