22 October 2008 | Team Tamar
Facebook – The Book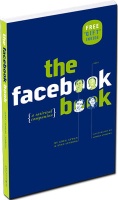 If you haven't yet heard of the Facebook Book, then go out now and find a copy. It is said to be hilariously brilliant and has received a lot of very positive feedback, and it simply provides advice on Facebook etiquette on a variety of topics such as "Breaking up on Facebook", "Friending", "Favorites", "Facebook archetypes" and many many more.
The Facebook Book written by Atwan and Lushing has followed the tradition of satirical writing that made The Official Preppy Handbook and The Hipster Handbook such successes. As Greg Atwan and Evan Lushing were some of Facebook's first users they understand the social media giant better than most.
Their insight is said to be jammed with anecdotes (true and some sort of true), some useless and some useful tips while examining and the unraveling of the myth behind "What your profile really says about you." It even provides a Facebook dictionary!! Sound a great read to me, regardless of age!