13 August 2008 | Team Tamar
First UK Art Exhibition Tour via iPhone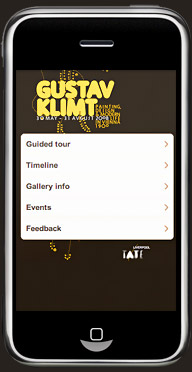 For their new exhibition Tate Liverpool in the UK have incorporated the latest mobile technology to enhance the gallery experience. For the Gustav Klimt show you can download a vast amount of information as a podcast before you go, or connect to the gallery's wifi when you arrive and get access to exclusive photos, music, comments from curators, archive film footage and behind the scenes footage of the exhibition taking shape.
Design Week have reported that it's even increased average visit times from 45 minutes to three hours, and if you can't make it to the venue you can download the experience from the site.
I'm sure this is the start of things to come, hopefully other major galleries will take advantage of mobile technology and follow suit.