7 May 2008 | Team Tamar
Windows XP SP3 finally released!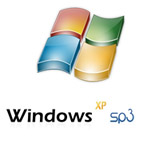 Windows XP SP3 was supposed be released on the 29th of April, but due to "unforeseen" bugs, Microsoft has had to extend the release date. Yesterday, XP SP3 officially hit the Release to Web (RTW) milestone, which in simple terms means, it's ready for download.
The final build of SP3 includes every single security update, out-of-band release and hotfix that has been released since SP2.
Those of you interested in downloading SP3 will have to do so through Windows Update. The current SP3 available on Microsoft Download Center is only for network administrators.
Before you do however rush off and download the new SP3, make sure that you read the updated release notes and that you know what to do with your current version of IE, as this could be affected by the installation.