13 May 2008 | Team Tamar
Google connecting social networks
Yesterday I did a blog post about Facebook and MySpace that will be allowing their users to access their information remotely and today I found out that Google is also making an effort to help merge social networks.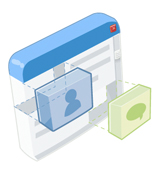 According to Google's director of engineering David Glazer,
"Social is in the air," and Google announced their own "
Friend Connect" that will allow users to move their personal MySpace and Facebook profiles and applications other websites.
Mr Glazer also added that "Google Friend Connect is about being the 'long tail' of sites becoming more social. Many sites aren't explicitly social and don't necessarily want to be
social networks, but they still benefit from letting their visitors
interact with each other. That used to be hard."
At the heart of Google's offering is "Open Social" that will give users even more freedom to personalise their profiles and sites. Google also added that Friend Connect will allow any website owner to add a simple section of code to enable social features where ever they're desired. This will completely eliminated any complicated programming that might have been necessary in the past.
In contrast to MySpace and Facebook, who will be releasing their new features in the next couple of weeks, Google will only be releasing Open Social in the next couple of months…Watch this space!