17 April 2008 | Team Tamar
Windows XP SP3 due in two weeks?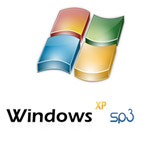 Every time Microsoft was asked about the launch date of SP3 for Windows XP, they would simply respond with the official answer, "first half of 2008".
However, the guys at Neowin somehow got there hands on an internal Microsoft memo and according to them we can expect SP3 on the 29th of April. This news is quite significant to many IT managers and users world wide.
Firstly, for many who were deciding whether to move over onto Vista, for its supposedly superior performance, the answer now would be a simple, NO. Many early performance tests that were done on SP3 revealed that it would increase the performance quite significantly above that of Vista's. And to make the news even sweeter, Vista's new SP1 is said to slow the current performance.
Secondly, Microsoft announced a few weeks ago that they would be extending XP's life span by two more years and with the news last week that Windows 7's launch date will be much earlier than anticipated, most people can find comfort with the knowledge that they now can entirely skip Vista.