19 March 2008 | Tanya Goodin
something kinda ooooooh…
I've just got my paws on the MacBook Air and it's gorgeous. Even thinner than my iPhone – check out the side-by-side comparison below.
The reviews all say much the same thing: the MacBook Air is really, really thin, and a great machine so long as you don't need the connectivity/ports it doesn't have. I was also staggered by its lightness, having hauled around various laptops for the last 4-5 years and knackered my shoulder as a result this one really can slip in a bag without you even noticing it's in there. I've got copies of Vogue that are heavier!
But quite apart from anything else it just looks lush. A bit like a piece of the Starship Enterprise fell to Earth, sleek, sexy and quite unfeasibly thin. (If you think I'm going on about this, get your hands on one and you'll see what I mean. Even after seeing the TV ads there's still an intake of breath when you turn it sideways and see it disappearing off into its 4mm thinest point).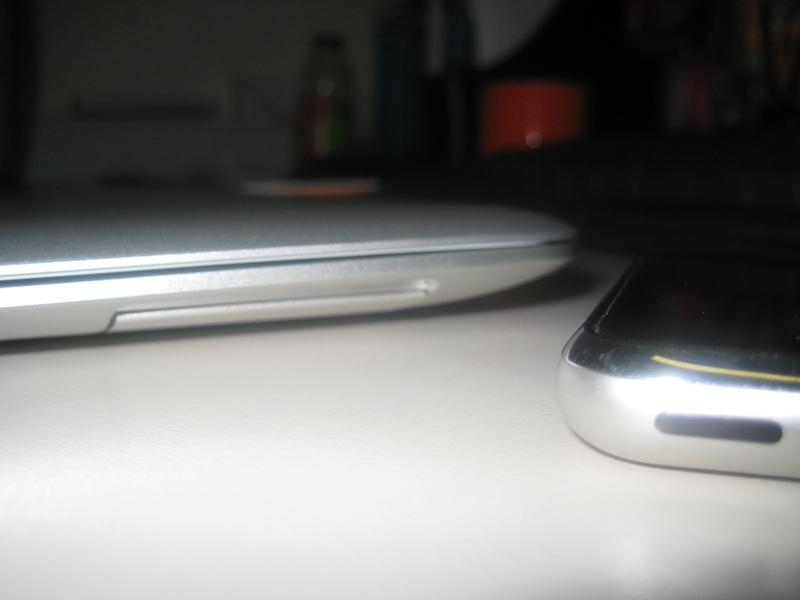 This puts me into a bit of a quandry. I've already got two laptops..a Sony Vaio and a MacBook Pro and I bought the Air orginally for the office but it's making me feel seriously covetous…I can't really have 3 laptops can I?
Oh go on then, rude not to… 😉