20 March 2008 | Team Tamar
How does PPC stack up to a good natural ranking?
Its official!
Natural search delivers twice as much traffic as paid search for number one ranked terms..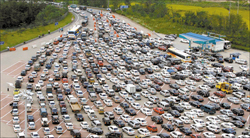 We have been monitoring traffic for a number of competitive terms that have consistently ranked number one in the natural search rankings and compared these numbers with estimates from the Google Adwords Traffic Estimator.
It becomes clear that the PPC numbers estimated by the tool only deliver between 30% and 60% of the natural search traffic. So does this mean Google is playing down the actual traffic estimated? Or is it simply that organic search delivers more in actual clicks than PPC?
The figures we looked at were in a very busy and competitive sector and were based on a months data.
We will continue to review these traffic trends as long as we have the number one ranking!