7 February 2008 | Team Tamar
Google vs Baidu in the Year of the Rat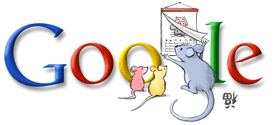 Google have released a
special New Year themed logo on the Chinese
Google start page. This
results page comes complete with firecrackers and a cute little rat. Compared to local SERP's this is more customisation than we are used to and could be a sign of things to come.

The Chinese market is very important to Google if they wish
to continue their domination of the search market, in the next few years the
Chinese will be very influential across the world and as we posted earlier this
week, Google is trying to pip Baidu with their online musical offerings. The year
of the rat is going to be very interesting indeed when these two giant search
engines square up for battle for the
increasing Chinese web traffic.