23 January 2008 | Team Tamar
Facebook in talks with Nokia
Two communication giants to start a partnership?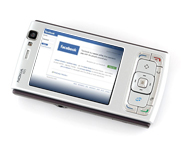 Facebook could be coming to a Nokia near you sooner than you think! According to a report yesterday social media giant, Facebook is currently in talks with mobile manufacturer Nokia to have its software built into thousands of handsets.
The Finnish mobile company is apparently developing ways to promote a mobile version of the social media site in a similar way that you can access and use YouTube on the iPhone.
It has also been reported that Nokia are interested in buying a small share of the Facebook empire and an unnamed executive said that "a partnership is in the works".
Either or both developments would definitely establish Facebook firmly on the mobile market in conjunction with the fact that it is the dominating force in online social networking. It would seem that the Facebook snowball keeps rolling. Will it ever stop? Maybe someday, but for now its growth and popularity is still unequalled.