4 December 2007 | Team Tamar
Google experiments with their search results page, again!
New experiment lets users choose results they want to see.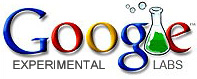 There is yet another new search experiment at the Google labs and it will enable users to personalise their searches by influencing the order of their results.
Every search result will have two buttons next to them, "Like it" and "Don't like it".
If you do select that you like the result it will be highlighted with an orange beacon so that you can tell the difference between these and the natural search results.
This simply means that you will be able to create a list of favourites for any of your queries and Google will remove the irrelevant pages.
So when you search for the same term again the results that you want to see will be right at the top of your search results page.
Google have not said whether your actions will influence the quality of search results, but one answer could be that they could combine your highlighted pages to dynamically create your very own custom search engines.