12 November 2007 | Team Tamar
Vuyani annual prize giving
Vuyani Primary School held their annual prize giving ceremony yesterday afternoon.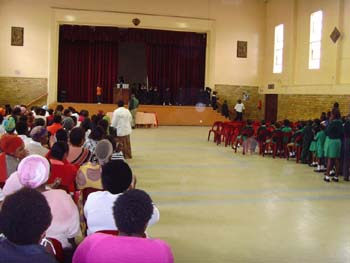 The school doesn't have a school hall of their own so the ceremony took place at the Guguletu Community Hall a few kilometres down the road from the school. (For those of you who where there for the CSR week, the hall is very close to the deputy headmistress's house – remember the smilie's (sheep heads) we had for lunch).
Being on a Sunday the township was buzzing. The streets where full of people chatting on street corners and playing football in the street. This was an experience in itself.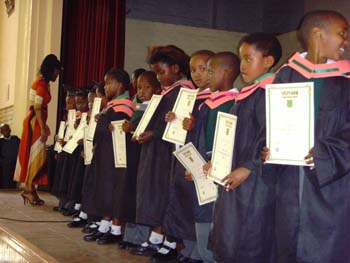 The ceremony started with a graduation ceremony for the Grade R children, who looked very cute in their academic gowns and mortarboards. The entire ceremony took place in Xhosa so I can't tell you exactly what was said but that didn't really matter because the pride and satisfaction was clear.
Everyone seamed to get a certificate. There where certificates for neatness, diligence, attendance, soccer, long distance (I can only assume long distance running) and basketball (Tamar got a mention here for the basketball court – I picked up uTamar and had a few looks in my direction).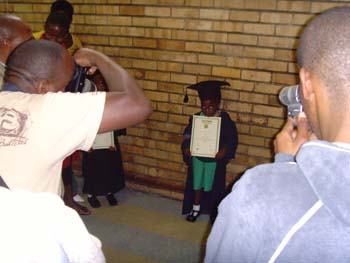 After receiving the certificates the photographs began and each child had an opportunity to get their photo taken with their certificate. Mahlubi says that next time I'll get a certificate too!