7 November 2007 | Tanya Goodin
Tamar launches in China!
Today is a big day in Tamar's world as we're opening up in China. Shanghai to be precise, the fastest growing financial centre in the world. It's an exciting day for all of us but particularly for me personally as I wanted Tamar to be a truly global business when I launched 12 years ago. I've wanted us to have presence in China for some time. Why China? Well it's a no-brainer but in case anyone needs convincing, China has the biggest population in the world, a booming economy, and has already surpassed the United States as the biggest consumer nation. Many economists believe China will soon replace the US as the world's most important economy and I'm inclined to agree with them.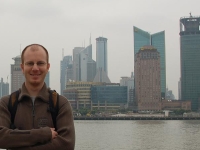 Tamar's Aidan Moore – Head of Operations China
And it's not just the size of the general consumer market that's exciting for Tamar but the huge digital opportunities there. China ranks second in the number of broadband users worldwide at 97 million users. Google launched in China at the beginning of 2006 and Facebook are rumoured to have a presence there by December this year. Jan Van den Bergh, the Shanghai-based president of i-merge/ boondoggle, published findings of an online survey that his company and Sinomonitor recently made on brand and product recommendation on the internet in China. Just one of the stats that came out of that was that 80% of the consumers think that the Internet is the most essential medium in their life (followed by 15% for mobile phones). China's online sales are forecast to top 51 billion yuan in 2007 (approx £3.4 billion).
But of course there will be challenges, not least the vastly different legal and cultural framework, the fact that 80% of Chinese-owned businesses don't yet have websites and the relatively low penetration of credit card ownership to enable online purchases.
Where credit cards are concerned, Chinese society has traditionally regarded credit, and therefore debt, very negatively. In 2004 there were only 2.14 million cards in circulation, although this was an increase of 25% over the previous year, and this is predicted to grow between 75% and 100% a year as the younger generation, who have different attitudes to debt, sign up for cards. The sheer size of the market means that although penetration may be low the absolute numbers will still be huge.
So, all in all we're excited about the opportunities for Tamar and our clients already in China. Most of our financial services brands already have a presence there and I'm sure the others have plans to cover this market soon. We'll be there ready and waiting for them!