31 October 2007 | Tanya Goodin
Tanya Goodin opens the Grade R classroom block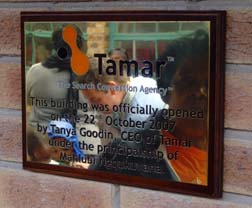 With the excitement of South Africa's victory over England in the Rugby World Cup Final still in the air we headed down the N2 along the now familiar route to Vuyani Primary School for the official opening of 'our classroom'.
Events started off indoors when all involved with the project were thanked by the teachers, principal and community leaders. The school's choir performed brilliantly followed by some very cute dances from the grade R children.
The proceedings then moved out doors where the new classroom was officially opened by a very pleased and proud Tanya Goodin (Tamar CEO).
After a thorough inspection of the classroom by all who attended, the proceedings moved back indoors where Tamar employees handed over the brand new Digital Piano to the school.
The day's proceedings finally came to an end with a basket ball match, on the new basket ball court, between Vuyani and another rival school's team.
PS.  For those of you who are interested, Vuyani kept to the proper South African tradition and won the match by a landslide, well sort of!
This is a copy of the letter from the Principal of Vuyani, thanking Tamar once again.