31 October 2007 | Team Tamar
Google Setting the Benchmark…Again???
OpenSocial to launch soon…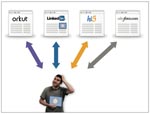 Google today announced its plans for a broad social networking project. The network will be known as Open Social and developers would then be able to create applications that work on most other social networks.
Google has certainly not launched another social network, but have found a way to make the lives of developers a bit easier. Their new application will therefore act as a tool that is able to work on all social networks. Research has proven that developers are loyal to social networks that they are most familiar with. Developers will now have a greater pool of centralised information to work off. Centralisation is key in this instance. Should Google succeed at this, it simply means that they are in the centre and effectively controlling the network. Google is using its considerable clout and snuck into the back into the proverbial back door of social media.
Open Social allows developers to access core information such as, profile information, friends information and activities. Unlike other social media networks, developers are able to use commonly used and less complicated software such as Javascript and Html. OpenSocial has not yet announced the specific rules and policies that will be applied but have promised maximum flexibility.
As is to be expected of the search engine giants, Google have timed this launch perfectly. Developers have long been unhappy with having to learn each code language not to mention the costs associated with social media sites.
Google's approach to the internet has always been simple; think of it before anyone else does, make search easier and add to their already impressive list of offerings. In this instance they've done it again.