16 July 2007 | Team Tamar
Back to School
The new school term started at Vuyani Pre Primary school in Guguletu today. The day began like any other Monday morning with an assembly in the school car park. Lined up in their classes, the Grade R childern where welcomed back to school by the headmaster Mr Nquvamba.
Today would be different. Rather than heading off to a local community
church (set up as a make shift classroom)as they have done for the last
few months, the Grade R children where the envy of the entire
school as they would be going into their brand new classroom.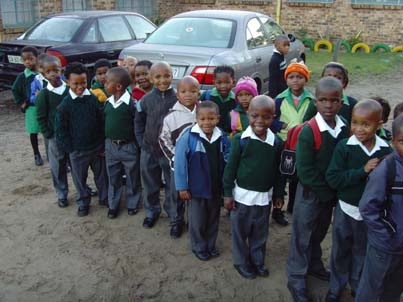 A chaotic start to the day resulted in the keys to the new classroom being mis-placed. This meant the kids got to have go on their new jungle gym. On hearing that they could go play, the kids ran across 'the previously deserted' school yard to the new jungle gym. The slide proved to be a big hit with the children jostling for position to reach the top of the slide to go down again and again.
After a last-minute sweep of the floor and a quick re-poisitoning of the new chairs and new tables, the classroom along with toliet block was ready for action. The children rushed into the class to find an amazing new classroom with a world map mural painted by the Tamar design team on the wall.